Hello, world! It's time to look back on 2021, isn't it?
2021 was my first year as a freelance software engineer in the Netherlands, which was very dynamic and full of new experiences.
I'd like to summarize my year here and I hope the foundation made this year will bring me a lot of interesting outcomes and experiences in the following years.
Thank you so much to everyone who supported me in 2021!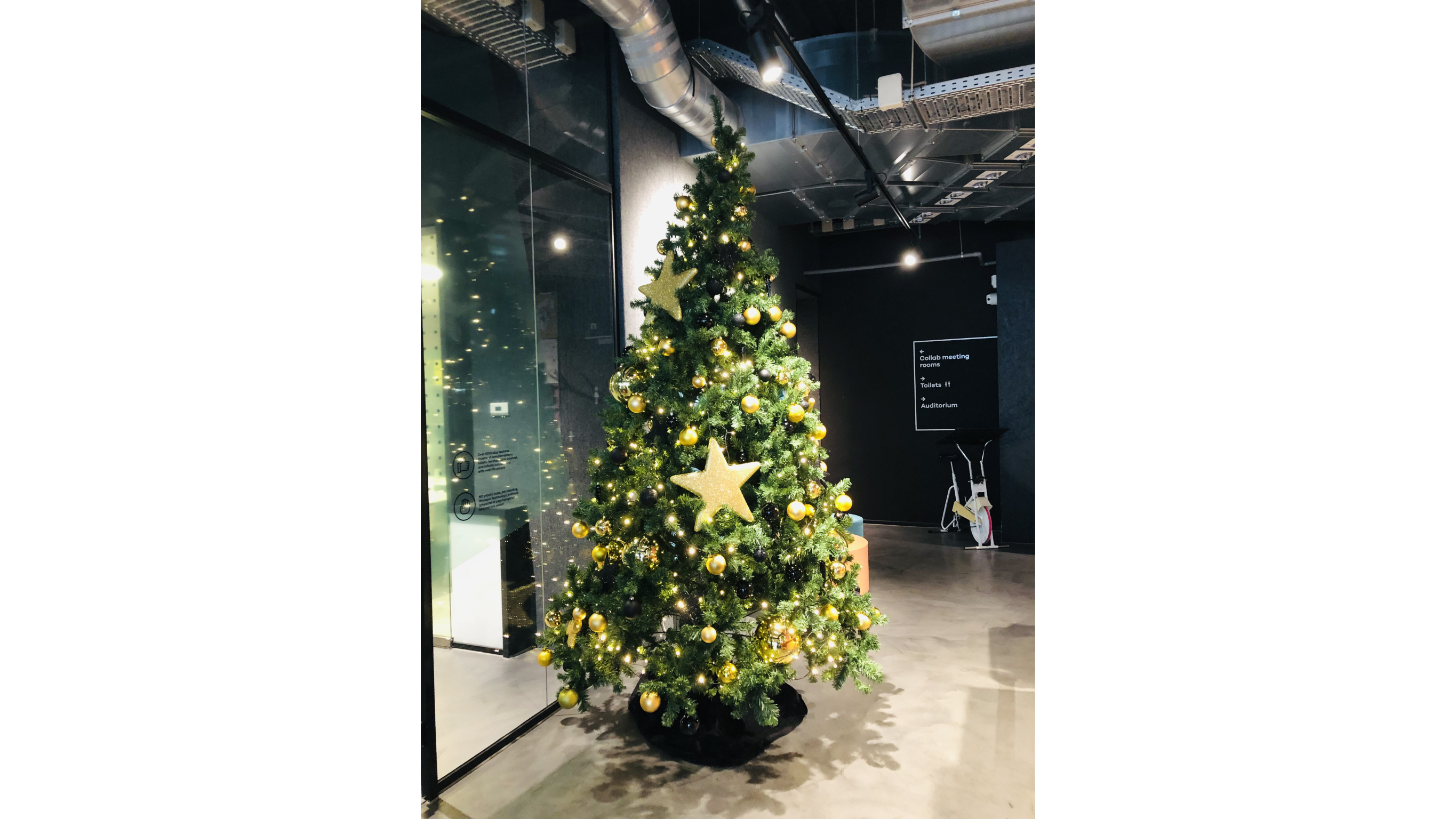 A Christmas tree at a coworking space that I've been using since November.
---
Numbers
These are a few numbers about my 2021.
Client projects joined: 3
Blog posts wrote: 10
Tech conferences/events attended: 15+
Programming languages I newly tried: 5
---
Big changes
There were a lot of big changes.
Started using a Dell (Windows/WSL) machine
This was a big change for me as I'd been using only Mac for about 10 years. However, the new machine and Windows were much easier to use than I anticipated. Now I use it for almost all things except iOS development. I purchased an M1 MacBookAir too, which is good, but having more options about the environment and platforms to use gave me a sense of freedom.
Started freelancing
For the first few months of 2021, I did lots of stuff around starting freelancing: registered my business, learned business rules in NL, got a freelance visa, searched accountant, set up a website/CV/portfolio, etc. Actually, it was a nice time and I realized that I like doing these by myself. I was able to (or I had to) learn a lot of business stuff, which gave me some sense of how business works.
After that, fortunately, I was able to work with multiple clients, which was a work style I wanted to achieve. I'm satisfied with this work style at the moment.
Tried new programming languages & tools
VSCode is amazing. (I'm writing this post in VSCode, btw.) Learning Haskell and Rust are very rewarding.
I had been only in iOS/Swift field for quite a long time and been feeling stuck in there. So, I actively tried lots of new languages and tools this year, which has given me a broader perspective on programming. In September, I summarized my current technical interests, which you can read here.
I hope this movement will bring me to another world in the near future.
Explored the Netherlands, especially, the media art scene
As it was my first year in the Netherlands, I actively tried to explore this country, especially the art scene here because it's my favorite. I visited lots of museums, art festivals, and events including courses from V2.nl. It's great to know that the media art scene is quite big in NL! You can find which events I attended from my quarterly reports, but my favorite exhibition this year was FAKE ME HARD exhibition.
---
Things I couldn't accomplish
Moving to Rotterdam
I wanted to move to Rotterdam as I like the city, however, I couldn't get a chance to move there. (The housing situation in NL is quite difficult.) However, I'm building a new life in Amsterdam for now, and it's not bad at all.
Visiting Japan
I planned to visit Japan from December to January and I booked flights, however, I canceled it due to the new entry restrictions there. So I'm spending a quiet holiday season in Amsterdam. I'm looking forward to another chance.
---
Thoughts about living in Europe
In 2020, I had to make a choice, whether I go back to Japan or stay in Europe, and I decided to stay in Europe. After a lot of experiences in 2021, I can say that the decision was right.
I attended a lot of (online) conferences in Europe or from the US, and many of them were difficult to attend from Japan mainly due to timezone differences, even though they were online. Attending those conferences gave me huge inspiration, and it was a very rewarding experience for me as a software developer.
Also, I'm working with a client in Japan and another in the US at the moment. This is possible because Europe is in the middle of Asia and the US. I work with a Japanese client in the morning and a client in the US in the evening.
So, I'm pretty relieved that my decision last year was not wrong. Although living and working in a different country or culture is not always easy, living in Europe seems to be a great choice for me as an ambitious software developer.
(In addition, the art scene in NL is a big plus for me.)
---
To know more
I wrote reports of my activity every three months. It might be interesting for you to read if you want to know how the first year of freelancing is.
---
Thank you very much for reading!
I wish all of you happy holidays and a happy new year!