I started working as a software engineer in April 2013, which means it's 10th anniversary this year🎉 Here I summarize my 10 years.
---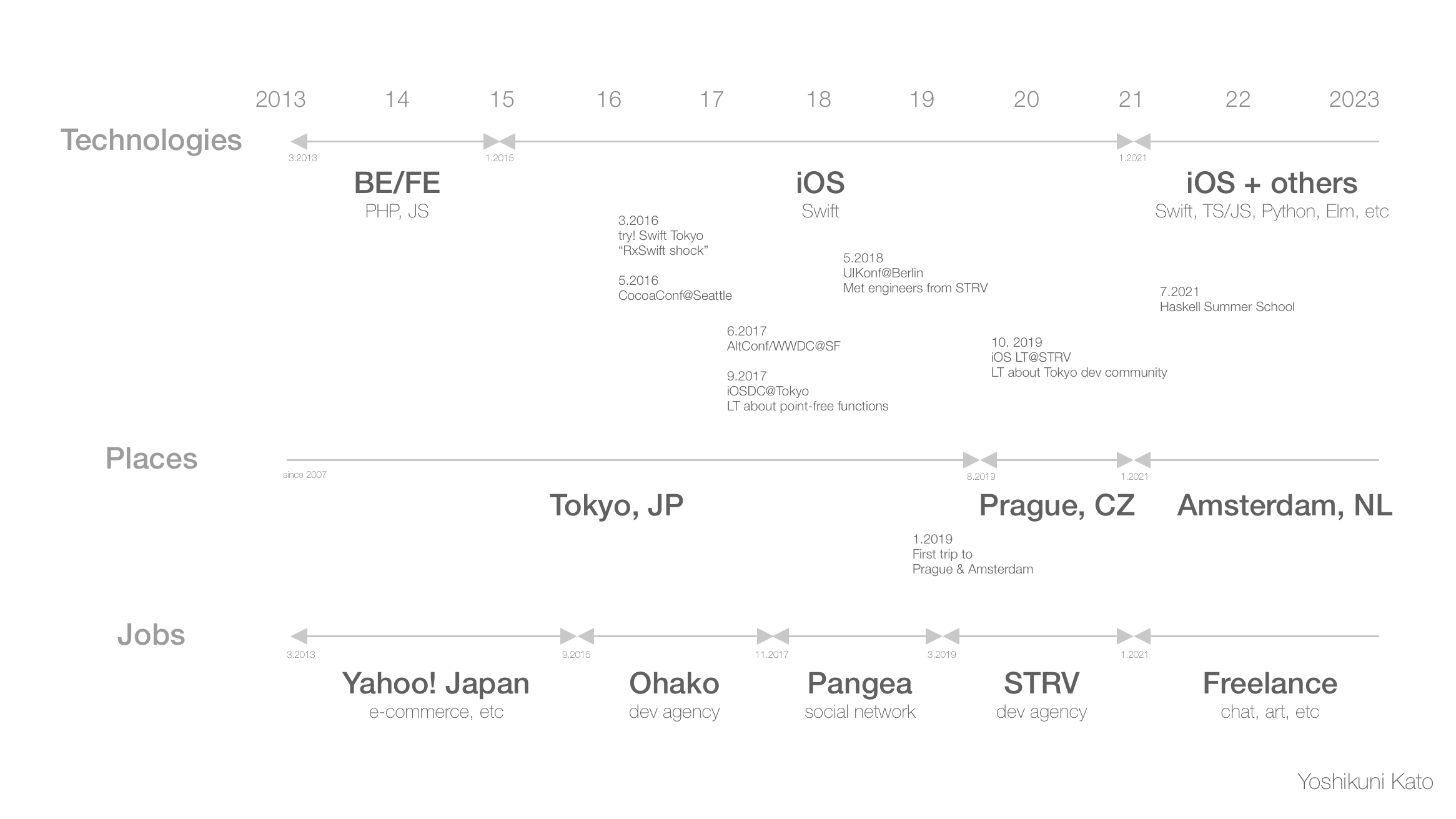 ---
Technologies
2013.03 - 2014.12: Mostly backend using PHP and NodeJS, some frontend
2015.01 - 2020.12: Specialized in iOS using Swift
2021.01 - now: iOS + others (Python, TS/JS, Elm, etc)
Places
2007.04 - 2019.08: Tokyo, Japan

2019.08 - 2020.12: Prague, the Czech Republic

2021.01 - now: Amsterdam, the Netherlands
Jobs
2013.03 - 2015.08: Yahoo! Japan (E-commerce, etc)
2015.09 - 2017.10: Ohako (Development agency)
2017.11 - 2019.02: Pangea (Social network services)
2019.03 - 2020.10: STRV (Development agency)
2021.01 - now: Freelance
---
Memorable tech events
2016.03 try! Swift Tokyo
My first international tech conference. Attending this made me think "Maybe I wanna work outside of Japan."
Also, this was the first time I saw RxSwift codes. The shock that I couldn't understand anything at all, even though it was written in the familiar Swift, strongly motivated me to understand functional reactive programming, which further lead to my interest in functional programming.
2016.05 CocoaConf@Seattle
My first tech conference to attend outside of Japan. I summarized my experience later as a presentation.
2017.06 AltConf&WWDC@SanFrancisco
I went to San Francisco and San Jose using my own budget, to see AltConf and WWDC. I enjoyed the events and the city with my friends. The report is here.
2017.09 iOSDC@Tokyo
I gave a lightning talk about Tips for passing functions around with point-free style.
2018.05 UIKonf@Berlin
I gave my presentation about App Architecture by Manual DI on the unconference day.
Also, I met some engineers from STRV, which lead to my application to a position in STRV, then my relocation to Prague.
2019.10 iOS LT@STRV office
I gave a presentation about iOS developers community in Tokyo.
2021.07 Advanced Functional Programming in Haskell by Utrecht University (online)
I learned how Haskell (or functional programming) world is vast at this summer school. Even though I knew some basics of Haskell, there were so many more topics and concepts to explore.
(I've attended lots of conferences and meetups in addition to these. I chose only memorable ones here.)
---
Thank you very much for your support during my 10 years of my career🙂